I woke up this morning in sort of a panic. It was more difficult to wake up today. Then I said to myself, "Self, you've only done this for all of two days while these girls have been doing this for over a month. You have absolutely nothing to complain about." So, I got out of bed and got on with my day in beautiful Haiti.
The other Haitian American and I had a conversation with the coach yesterday. He told us that our new job is to bring up the spirit of the team in these last few days of training camp. We've definitely been given this task before on multiple occasions.
When we were first brought to this team, we played for a coach named Gaspard D'Alexis.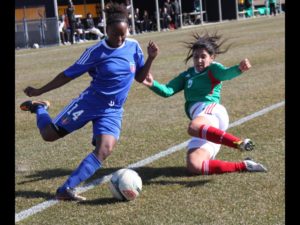 This coach brought so much to the team. He knew the game inside and out. He knew how to win and how to bring the best out of each player. He showed us that each player was important and should be treated as such. He knew how to challenge us each and everyday. There was a sense of professionalism every time he spoke. Although all of those are necessary qualities, that wasn't what made me think he was an amazing coach. It was the fact that he brought the team together. He showed us how to play for each other and to smile while doing it. He used to have us sing and dance after every practice. This brought the best out of each girl and definitely broke some ice for us newbies. He would joke with the girls after being hard on them so that they knew he coached out of love for them and love for the game. He brought the happiness some of them lost back to the field.
Somehow, that was lost somewhere in these last couple years. After practices I've been so confused at the fact that we would just pack up and leave. So, after the conversation we had with this new coach, we knew that we needed that back. After training today, I grabbed a couple girls and started to dance. It caught on and the coach told them it was time for us two to entertain. We got them dancing and singing and laughing and laughing. This was the team I remember. The giggling, sometimes at us, but giggling none the less. These were the girls who could look so serious until they cracked a smile and would light up the whole room. I missed them.
After dinner we had a meeting with only the team. From what I could translate, a lot of the girls said that the laughter and happiness had been missing in each day. So, I'm on a mission to help bring it back because some of the best soccer I've ever seen them play was with a smile on their face.
If you want to help, feel free to send me a joke or two (in easy to translate words)!!