Alright, so in the last post, I mentioned this much anticipated GUSK 
game
. They have this saying here in Sweden about a crazy gritty match. They call it a "Gris match."
This team was out for blood. We snuck away with three points last time and they knew it, we knew it, but it was what it was. They NEEDED to win this 
game
. We just really wanted to. And their coach…well, he's a character. He yells. A lot. And sounds super angry all the time. Kinda like, "Bro, do you even like coaching?" Kinda like that.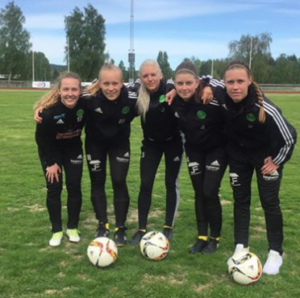 But this 
game
 meant a lot to both sides. To all the coaches. To all of the fans. To all of us. And we were ready. But unfortunately when we arrived, the locker room wasn't and neither was the field. We stood for about 20 minutes before someone directed us to the right locker room. We had very little time to get dressed and have our pre 
game
 talk etc. Then when we thought we were about to play, after warm ups and everything, the field had had so much heavy rain the day before that it was flooded. So they spent 20 minutes trying to sweep grass. Yep, sweep water from grass.
All of this happened, yet we were still focused. We were hungry for this 
game
. No matter what excuses we could've relied on to slack off, we stood tall and took each set back in stride. But boy, once we did start this match, it was brutal. Aside from the fact that every time the ball bounced it would shoot off the ground like a slippery bar of soap, the other team was rough. I have many free piggyback rides. Not fun.
But we fought and fought. Both teams did. We fought so hard that we came out of the match at a stand still with no goals at all. We had chances, they had chances and both teams left the field exhausted. I know for a matter of fact that it would've been a very different match for us without our amazing goalkeeper, Linnea. She was literally Super Woman through the whole 
game
 and was more than a captain and more than a teammate. She inspires me more than I could express to her. And one point was what we needed, and we got just that. Now onto the next big 
game
. Can't wait!!