Yesterday was my first day with the team. Boy have I missed them. They all came to pick us up for training. Every time I see them again after being away, it's like a scene straight out of a movie. There's a whole lot of laughing, smiling and unnecessarily  long jogging sequences that end in warm embraces where I'm usually lifted off the ground a couple times. If you don't have an image yet, just watch the last scene of "Love Actually" where everyone is meeting their loved ones in an airport. I never feel as welcome as when I'm welcomed by my Haiti girls.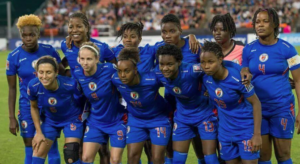 Although that was exciting, I should've saved more energy for practice, or should I say my two practices. The morning practice shouldn't have been hard at all, but after traveling, a lot of simple tasks seem taxing. Waking up was one of those tough but necessary tasks I speak of. The second practice, we had a game. Yes. A game. Against men. Again, you read correctly, men. I was beat after the warm up, so you know that I was not in the best of predicament in the game. I was also  unaware that I am able to hold a grown man on my back as we both fell to the ground until yesterday's game. I should have told him that I charge a quarter for piggy back rides. I guess I'll add it to my new coach's tab. Either way, we played very well. We scored an amazing goal and stayed disciplined in the final 20 minutes and played some of the best soccer I've seen this team play. All in all, the day was long, but so glad to be back with my family.
Today, the simple task of getting up was not so simple. But I triumphed. We walked over to IHOP and I had a large stack of chocolate chip pancakes. Then we walked around WAL MART looking at sales we couldn't participate in. Then we had a fun and short practice. But, throughout the day, I realized there's a universal difference between what a coach thinks is an easy practice and what us players think is an easy practice. Someday I'll crack that code.
I did recognize something, though. I've come in at the end of this season for these girls. Sometimes, when we get comfortable with our staff, we forget how amazing they are. So, to the FC Indiana staff, you're amazing.  I appreciate everything you've done for these girls. And to my Breezy staff, I miss you dearly!!!
See you soon!