Today kinda worried me a little bit. There was a lot of down time and the team was still recovering from our travel. It's crazy how much that can impactan athlete's routine and morale. A lot of the girls spent most of the day in bed, not excluding me. Traveling is rough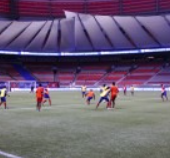 on players for several reasons. From muscle fatigue, to a drastic change in schedule and time change, there's a lot to adjust to.
So when training came along, at 8:30pm, we were all so zoned that there wasn't that fire our team usually has. But have no fear, our goalkeeper is here. This keeper is one of the most intimidating players to play against I've ever met. Strong doesn't even begin to explain it. This incredibly person came to meet the team here in Canada and last night gave a speech that definitely changed the attitude of the team. There are some people that when they speak, people listen.  Fortunately for us, our keeper is one of them. The team was exhausted last night, but after our speech, you could see the excitement in what's to come start bubbling up in each of us.
Sometimes it's easy to forget how fortunate and blessed you are. I do it all the time. Sometimes we forget to cherish experiences while we are in the midst of them. That's what our meeting was about. It was us needing to realize we are here. Now. The opportunity to change things in Haiti women's soccer, not just for us, but for future of little girls in Haiti, is now. It's here. How exciting is that??
So, tonight we sleep and dream of dribbling, shooting and scoring and making a splash in this tournament!! An ale Ayiti!!