Today was one of those days you remember how much people can care. We had the pleasure of meeting some amazing women with huge hearts today. Jen Wells and Jeana Hamilton, Michelle and their wonderful kids walked into the lives of the Haiti Women's National team. They are part of the Vancouver United soccer club and now will forever be in the hearts of this team.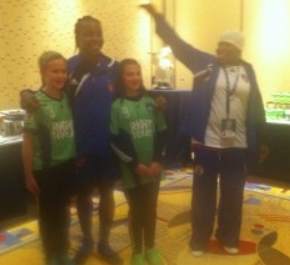 Two days ago, the U-11 through U-18 girls teams of the Vancouver United soccer club made a decision. They saw the spirit in the girls and were compelled to help. Jen Wells, the U-11 coordinator, sent out an email to coaches friends and families of her club, inviting them to watch a video of the girls that touched her heart, and asked them a question. Will you find it in your "…hearts to give to the Women's National team of Haiti, a group of women our young girls will no doubt idolize."
That's amazing. What they ended up doing was setting up a donation spot on their photo day and asked the people of their club to help them raise money for the team. And oh boy did they. Not only did they raise money, they managed to collect equipment as well. Last night these gifts were presented to the team. I wish I could explain how the girls reacted. The spirit of the team was immediately lifted and dancing and singing commenced. It was priceless.
It's amazing how soccer can bring so many people from different walks of life together. And there's always one constant: Love and compassion for others.
The girls of Vancouver United and the people in the community directly impacted these women in a very positive way.  And for these girls to be able to know that they helped people, people they can see play tomorrow, people who are playing the same sport they are, people they can look up to….well, it's something that may stick with them forever. As one of our captains put it (in English), "..this is unforgettable."
So, people of Vancouver United, thank you from the team. You have blessed us and we will never forget it.