Last night was our final game. We played against Cuba, another struggling country. We have played them many times and have always had a great match. But last night, it was more than a great match, it was one that will go down in my books as one of the greatest wins Haiti has had that I've had the pleasure of witnessing.
The day started out as usual. We got up excited to get the job done. Little did we know, we had a huge surprise waiting for us put together by our liaison Kay Hussain. She managed to get two limos to agree to take the team around Vancouver for a site seeing day. The team was ecstatic. Music was playing, dancing was happening, and I could just feel us start our win right there and then. We had an amazing time together in those limos and Kay went above and beyond her job to do something for girls she met less than a week ago. Something special happens when people meet the Haiti Women's National team. Connections are made and people, including the team, are inspired.
As for the game, it wasn't just that the team scored three seriously beautiful goals (by Kimberly Boulos, Manoucheka Pierre Louis and Nadia Valentin) that made a lasting impression, it was the support we received from all who came to the game. There were fans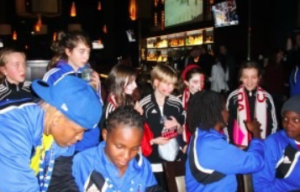 from everywhere! Canada, Brazil, Costa Rica, Mexico….they were all there for the team in the form of signs, cheering, and tons of encouraging messages. Wow! And after the game, the support continued. An anonymous donor gave the team a dinner at a brilliant restaurant. Along with the gals who came the night before to give the team what they had fundraised, another young U-11 team (Pit Meadow's Pride) surprised us. They presented us a card saying how inspired they were by the mentality of our team. They also raised money for the girls to thank them for showing them what determination in its finest form looks like. They wanted signatures and pictures and to be around women they now see as heroes and role models. And honestly, they are my heroes as well.
So, maybe we aren't going to the Olympics, but that doesn't mean we did not win. We won the hearts of people all over the world who saw strength in the Haitian culture amongst hardships. We won the chance to influence young minds and hearts to become people who can now see the need to help others and find a way to do it. We won a chance to show people who we are and that soccer can be more than just some sport people play to win, it can be an avenue to connect with others. We won a chance to make our family in Haiti proud. Kinda priceless if you ask me.
To all who have donated, no matter how you have, thank you. Thank you for taking second to see us. Thank you for letting us into your hearts and know that you are in ours forever. We're looking forward for our next international opportunity. You'll see us again soon enough.