Today was quite the day. I woke up, well before my alarm. It was time. Time to face my amazing day to be. Nervous? Oh yeah. Excited to get this party started? You bet.  Got to the airport pretty early, then obstacle number twenty something of my planning for Haiti happened. I went to check in, and they said they had a right to refuse me because I did not have a return flight out of Haiti, only a one way. My heart dropped. I realized in that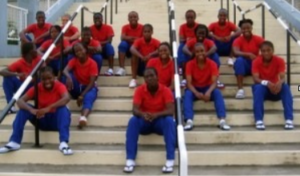 moment how much this trip meant to me. How much reuniting with my teammates and coming to meet them in Haiti was to me. For a split second, I panicked. Luckily, my older sister had a grip on things and handled it for me. Thank God for big sisters.
On to the plane I went. And into my own row to try and get some shut eye. But all around me I heard people speaking in Creole.  The nerves came back. Would I remember any Creole? Will the new coach speak English? Oh man, how is this going to work if he doesn't?
Then it hit me, a calmness. Soccer. That's what I'll speak. I know it fluently. So do they. If that doesn't work, I'll speak in smiles. That too is universal. When I arrived, I saw a woman who took care of the team with my first venture with then who named me her sister before I left. I was so happy to see her. After that, we went straight to training. Ninety degree weather never felt so good after being in the winters of the Midwest and New York. My teammates greeted us with open arms. I am so happy again to have ignored fear and stepped into a place where I am open to any and all possibilities here. I'm already so happy I came. Can't wait to train bright and early and continue our road to the Olympics!!