Wow. I woke up today in Haiti. Well, I wouldn't go as far as to say I fully woke up. We had practice at 6am and you can never be too safe in those situations. I had an alarm set at 5, 5:05,5:15, 5:17….well, you get the picture. No matter how many two-a-days I did in college and post college and with Alena the Sunday before I came here, I can never really fully prepare for them. Neither can my body. But there I was. At 5am. With a choice. Go back to sleep and pretend Americans can't tell time, or go and do what I trained everyday to do, play with my girls. Needless to say, it was a no brainer.
It's now night time. I'm exhausted. I can sit here and say, I'm still blessed. I'm blessed because I am such a goof and so bad at speaking Creole, that I made some of the girls laugh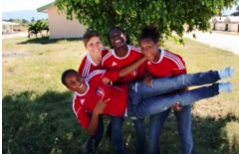 (at me, but laugh none the less) today. It makes me remember my conversation with the coach who brought me here two years ago. It was May 2010. I was a senior in college. A dear friend and I just wanted to know what we could do to give what we could to a country and a team who had just lost so much. He said we can give ourselves. Come and bring our ability to make people laugh and joke and have fun. If you know anything about me or this friend, you would know that was the perfect task for us. We are goof balls. Yesterday, even though I didn't realize it at the time when making plans, I happened to fly into Haiti on the two year anniversary of the earthquake. What a day to come here and restart a mission I'm so passionate about. Loving my team and making sure they laugh and smile and enjoy playing each and everyday. I can't wait to wake up tomorrow do it all over again. Canada ain't ready for we have for them on game day!