It's so beautiful here. I sent a picture to a friend who said that the colors here are so vibrant. As I read it, I looked around and I couldn't agree more. So much color, so much life.
Today was our last day here in Haiti. This has all gone by so fast, but I've been so happy to be here. We had practice today and at the end had to say good bye to one of the coaches, Coach Cherry, who isn't coming with us. It bummed me out because he is so good for the team. But all he has done will pay off if we perform how I know we can in Canada. Afterwards, we had a press conference.
It's always funny because the other Haitian American and I get interviewed constantly. We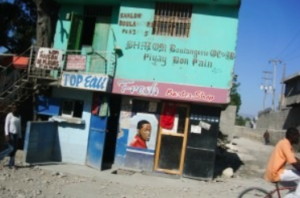 were both very worried that we would have to do these interviews in Creole. Lucky for us, one of our captains is brilliant and has been picking  up English faster than we have been picking up anything. I can't believe I haven't mentioned her yet. Her name is Fiorda Charles and she is one of the most gracious and hard working people I've ever met. I never hear her complain. I see her work for her team and can see that her determination runs deep. She was one of the first people I connected with on the team. We sat on an hour bus ride my first time and we taught each other every position on the field and a whole bunch of other soccer specific words. I forgot them seconds after she said them, but she retained everything I said. I wish I had the means to bring her to the States and send her to college. Hopefully I can find a way.
After our interview, all the girls got to go home and see their families before we left. A lot of them said their families were sad to see them leave, but I know that they are also proud and waiting in anticipation to see their daughters succeed. When they came back, they looked refreshed and ready for our adventure. It's funny how after you haven't seen your family in a while or are about to leave them for a while, that they can always bring a smile to your face. Usually the smile that either heals whatever things happened on your journey or a smile that comforts your fears right before you start one. So, today those girls were my family and they gave me smiles that refreshed me since mine is not here. And tomorrow, we leave Haiti for a chance to make Haiti history. Can't wait!!