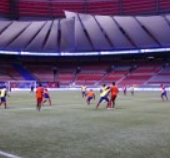 There are a lot of things to learn from a soccer game, win or lose. Sometimes you learn how a teammate reacts in a certain situation. Sometimes you learn what happens when everything goes wrong, or even right. But every time you learn something about yourself. It could be how you yourself react when everything goes wrong. It could be that you're a lot more brave than you give yourself credit for. No matter what, you'll learn something.
Our team had a hard lesson today against Canada. We know we could've played better, that's a given, but we are learning. We are learning how to deal with adversity on the field, with injuries, changes of personelle, and much more. It's crazy how soccer is though. So many people approached us saying how they loved our style of play. And I know I'm bias, but I'd have to say so do I. We have more to show, we aren't done here.
So, should we hang our heads and carry this game into the next match? No. We leave it on the field and start planning to beat Costa Rica. Tomorrow is a new day.