How can I describe something I can barely believe happened. Let me start with the crowd. Now, we have had some amazing crowds before, but we had this crowd that day. And the team. The coaches seemed to be in it with us, so excited, even dancing in our pre-game. And my girls. We had never thought we would be sitting at the top of the table at the end of the season, undefeated in league, won 2-0 away at our first qualifying game and could even LOSE this game 1-0 and still move up to Elitettan. Like…….dream right??
Well, walking into the tent where we played out last game was nothing short of a dream.
The newspaper had printed a two page sign that you could tear out and bring to the game. When we walking in, the whole entire crowd was holding up these bright yellow signs. It was breathtaking, inspiring and gave me the feeling that this was gonna be a great day.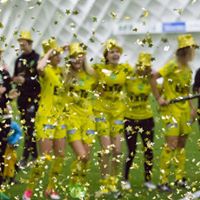 And it was! We scored in the first half! We scored two more in the second half. Hagel scored off of a corner and Sanna, yes Sanna again, scored two more goals to end us 5-0 overall in Kval! We were ecstatic. Flabergasted. Overjoyed. Uncontrollably excited. Just plain happy. The whistle blew at the end of the match, I cried, the crowd rushed the field. It was the most magical feeling I've had in my club career. We did it.
Not just we, but I had set a goal for myself at the start of last year. I had a huge injury at the start of the 2016 season and on my way back onto the pitch, I decided that I wanted to be playing in Elitettan or higher in 2018. Well, I did that. Not alone of course, but I know now that I worked hard enough to reach a goal. Nothing is impossible. Dreams are made of wishes and hopes until you put them into action. Dream big my friends!!!!!