Dude. I'm in shock. What a day! What a game! I joked with all my teammates that I came here back to Sweden for one thing and one thing only. A gold hat. This is some sort of celebratory tradition in sports teams where they all wear gold hats when they win things. I've seen pictures. I've seen videos. I wanted that gold hat and I would stop at nothing to have it.
The game started and us being pumped is the understatement of the century. We were almost too excited to play! We had more than 6 chances right in the first 15 minutes of the match. We "almost" scored multiple times right out of the gate. But close only counts with hand grenades and horse shoes. But we were on the hunt for goals and I was on the hunt for that gold hat. But halfway through the first half stuff just started not working. It became really frustrating and really stressful. We ended the first half in a bit of a huff.
We sorted it out at half time and came back out a whole new team. Partway through the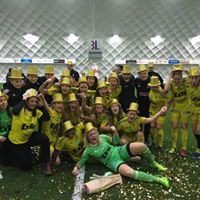 second half, the coaches changed us to a three front and it was awesome. We attacked and attacked and I could feel the energy growing. Did I mention we were back in the legendary tent with over 550 fans screaming and chanting for us? Yeah. It was legit.
We started feeling the momentum and the other team started feeling it too. We were knocking and knocking. A throw in. A flick. A goal. That's how fast it happened. That's all it took to WIN THE LEAGUE!!!!!! After that we did what we do best and made a team feel so much pressure that they shut down. Not one single goal scoring opportunity. Yeah, that's how we do.
The final whistle blew and it was like a scene from a famous Sports movie! The crowd ran down and flooded the field as we cried and laughed and jumped and sang!!! I was overjoyed. I was elated. I was in disbelieve. We just solidified a season long undefeated streak and were heading into qualifications for a higher league. Words can't describe that feeling. It was pure joy.
Next week, we could make history for this community. We could make history for ourselves. We could be one step closer to changing our Soccer careers. What happens next you ask? Well. We play a Home and away match against the norther team who won their league for a spot in the Ellitetan. The second highest league in Sweden. So stoked. We travel 8 hours to meet them and fight for that spot. CAN NOT WAIT.