It's been a trend to say that a team plays their best 
game
 against us. Seriously hear it all the time. They come to fight when they meet us. And fight they do. This last 
game
 was no exception. They came out swinging, quite literally swinging. This was the most physical 
game
 I've played here in Sweden in a long time. I think I was on the ground 70% of the time. My poor jersey. And not just me. Our team was a little taken back by how many times we were hit in the first half.
This tactic was working until they made the mistake of being too physical in the box. We got a break with a PK and we went into half time 1-0. So much to talk about at half time. The main thing, be patient, it'll come. This is a reoccurring theme in our half time talks over the course of the season. We are fit. Mentally and physically. We have scored SO many of our goals in the last 15 to 20 minutes of matches. Sometimes we strike late, but we make it count.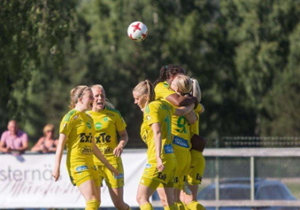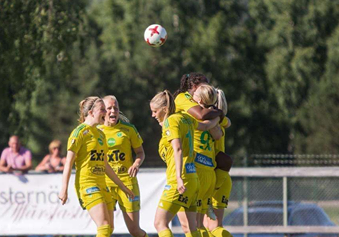 Second half was the same. They hit us, we fell, but we always got back up with more fire. Fifty two minutes in, I jumped up and won a header and flicked it on to, yeah, you guessed it…Ellika. I don't even think I moved after it went to her. I already knew she would finish it. And she did. Making that three 
games
 in a row, a ball from me to her, ended in a goal. So cool. And then, five minutes later, she strikes again. Ellika had six goals in three 
games
. Like whaaaaaaat?
Then as I got the ball again, I passed it out to Vicke and she was off to the races. Not letting anything stop her. She scores. We are now up 4-0 and weren't slowing down. Vicke went on to score again. Then, I get the ball near the midline. I have girls clawing at me. I felt like I could've made a fuss about it to the ref, or get passed them and talk with my feet. I chose the ladder. And as I took a swing to cross the ball, my defender shoved me to the ground and I fell backwards hitting my head so hard I thought it would pop off. Then I hear screams. I figured that Ellika, who I was trying to cross the ball to, scored and got a hat trick. But nope. Apparently, I crossed it and it hit off of their player and went it. Giving me the goal. That I didn't even see. So confusing and awesome all at the same time.
Again, we are special. This team could've kept complaining to the ref about how dirty the other team was playing, but instead, we scored. Six times. And left happy and well, sore as hell. It's hard to beat someone who never gives up. And we don't intend to do that, not now, not ever.