Wow, what a game. We played against a team who I have a bit of history with. I've played them a few times and it's hasn't always been fun. This team started a downward spiral for my team in 2015 and then beat us the next time we met them. On the exact field we had the pleasure of playing on again.
When you have history with a team, you come into a game with memories flooding your brain. Good ones, bad ones, and all the ones in between. I was pumped. One huge reason why was because of our team meeting a few days prior. It's amazing how one can insight excitement or a good memory in someone without even knowing it. I did that. And it impacted me in a great way.
Apparently, before a game, our team sports psychologist asked me how I felt. I answered,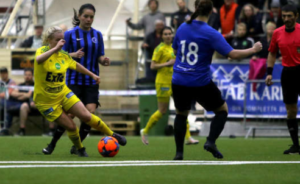 "I'm [foul word] ready." It was an honest answer. I'm not even sure what game this was. I just know that this stuck with him. It stuck with him so much that he based his entire meeting on being "[bleeping] ready." And I felt so much pride. I felt that me, just being me, can impact someone who is sent to the team to impact us. Now, I know that there are probably many players who have done this for this guy, but I feel humbled and honored to be one of them.
And boy were we [blanking] ready! We scored our first goal inside of five minutes into the match. A ball from my Lil Sis Matilda to me, me to Anna and GOAL! Our second goal was a tad controversial. A ball to Ellika that was deflected by their defender to me, I one touch volleyed it back to Ellika and the screaming started…"offsides" they said. But she shot, the keeper made a phenomenal save, but not good enough to stop Vicke from torpedoing the ball back in left footed! Half time, us 2, them 0.
So many people will tell you that this is the scariest scored in soccer. But not for us. We came back out and scored again. And again and again. And again. Yeah, count those agains, we scored four more times! I got the next goal after half from a ball from Ellika. Then Anna from me, Vicke again, and then the wonderful Matilda rounded us out with a cool six.
This game was fun. When we have had so many tough and grueling games where fun wouldn't be the adjective that comes to mind, having this game out of the gates after a break was magnificent. It was legendary. And it was well deserved. I'm happy to be back in it with this team and can't wait until we get to play again. Why? Because we are so [f&$#%€?] ready!!