I want to start by saying wow. Just wow. We had almost 500 people at our match today. One of which was a scout and another who coaches one of the national teams. It's insane the amount of support we have. And we feel it on the pitch. And we support each other. Even today, a crazy match, we found a way to support each other. 
Ok, so this game right? We just played the most intense game I think we've had. We played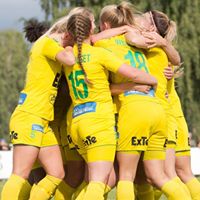 against Bollstanäs and from the very start we felt a different kind of pressure. There was only a 5 point lead between us and this game could bring us closer to winning the whole thing. And that pressure is intense, but all true football players love it. These are the games we remember. These are the games where we show who we are and what we are made of. And today, we were made of pure solid AWESOME. 
First half ended 0-0 as expected. What I didn't expect was having two great chances on goal and kissing them both. My mind almost went so negative, but my team and the crowd was there for me. 
Second half, they had the wind in their favor. And just a few minutes in, they scored. We have only been in this situation 5 other times. Yeah, you read that right, we've only been scored on 5 times before this goal. The goal was in slow motion. There was hardly a reaction to it. Not the crowd, and barely their team. And there was SO much time to play. But for the next 30 minutes, we fought for a goal and it just wasn't working. One of those moments where you feel the gameslipping away and you feel a special part of your season going with it. Being undefeated comes with a sense of worry for if that's taken away. 
We were 85 minutes in. Most teams would've accepted their fate and given up. But us? No no, we fought. It started with Ellika. She sprang to receive the ball from a throw in. Passed it over to Matilda who took on two players and got us a corner. This corner. Wow, this corner was a chance. A moment for us to take back what was ours in front of our 500 or so fans. Anna went out to take it. And I prayed. I prayed for a goal so so hard. She hit it, the wind and her perfect curve took that ball and it bounced right in. Well, it went up and down right in the box and then went it. And holy crowd reaction. They roared with excitement and we celebrated like we just won the World Cup! And it felt that way too. 
When you work that hard in a game, and get rewarded for it, it's just so satisfying. It's a feeling that most athletes miss immensely when they are done playing. It's happiness and relief. It's joy and pride. It's magical. This team is magical. Can't wait to play another game with them. Sad I have to wait a whole week to do it, but I cannot wait!