Well, I'm stoked to say that my sisters were in town, got to travel on our bus and watch this match. Such a blessing to share my lala land world with them. And boy was it a lot of Brand girl energy. The team thought just one of me was a lot, then they saw the three of us. Together.
We brought that energy with us onto the pitch against Gideosnbergs IF. Our warm up was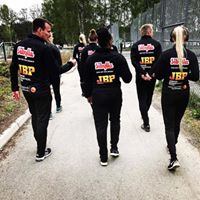 insanely good. We were passing and moving and defending super hard. After it, I thought there was no way we would leave without three points. The 
game
 started the same way. Passing yo feet, gray movement and chances galore. But we just weren't getting them into the net. But it was one of the most fluid attacking halves we have ever played. We were switching the ball and creating chances, like our first goal. A ball from the left to Anna in the center and out to Amanda. She took a big touch, looked up and saw me making a run. She sent a ball flying towards me and I held my breath as it came. Faster and faster….but suddenly, it took a turn and sailed straight into the back of the net! It was beautiful! My sisters went crazy. And so did we.
We went on like this for a little while longer while we pushed for more goals. More great passing and more great soccer. Another switch of the ball towards Vicke, she looks up and sees me and Ellika running like hell against the back line. She sends a ball and it sails over Ellika as she thought, "Oh no, it's too deep." Just then, she turns and sees me collecting that perfect ball. I take a long touch, almost too long, and the keeper comes rushing out. Without even thinking, I poke that ball with my trusty toe and it slides right under the keeper into the corner. And again, and even louder, my sisters went CRAZY!
I was so happy to be able to score in front of them. It was such a pleasure to even have them at my 
game
, let alone get them a goal. The second half was weird. But we came away with the three points we set out for. And I think I might have made my sisters proud too.