It's bitter sweet when you play against a former teammate and friend. It's even harder when that teammate is a baller goalkeeper who has the game of their life and their success means your shortcomings. Or visa versa. But this game ended in a dear friends' favor and kinda hurt my team a little bit.
We came into this game knowing this team we were facing can score and has scored on us. We knew it would be a battle and winning meant we kept our decent lead in the table. But when we started the match, so much went wrong for us. So much could have been better. So much was going right for that good friend of mine. She just happened to be the keeper for the other team. And she's a baller.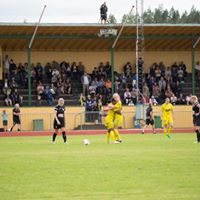 We had a few spectacular chances and the beginning that she just shut down completely. Then, the thing that doesn't really happen much to us happened. We got scored on. So early it was a shock to us and our fans. The whole half seemed to be flying by after that. We weren't supposed to lose this game. It was so surreal. Then, we got a corner. It shot across the goal and came to me. I took a touch and shot hard with my left foot. It was going in and then boom. A defender stops it. But then it bounced right to one of my players and GOAL!!! 1-1 from the comeback kids.
Second half was also unlucky for us in so many ways. My keeper friend was unbelievable. She stopped things like a pro and I was proud and annoyed with her all at the same time. Then it happened again. That thing that hardly ever happens to us. Especially never happens twice in one game! They scored. Again! Like whaaaaaat? Why? Who? When? How? I couldn't believe it. The time was ticking away and it felt like our season was as well. I couldn't help thinking this couldn't be how our season undefeated streak ends. And then. Corner for us. Ball goes to the middle. We score. We go crazy! Comeback kids at it again! And within minutes we get another opportunity. Sanna shoots, keeper friend saves it, our little one follows and hits in it!! We go wild and so does the crowd! But wait, we hear the whistle and they call that goal back because they think she was offsides. Ugh.
But a point instead of no points was enough for the day. Coming back from goals is no easy task. It's like walking up hill…with weights on your ankles…in the snow….with a 10 pound backpack on. Just to give a little perspective. But we did it. We are still undefeated and proud as ever of our comeback point. Now onto another opponent who was a pain in our back sides last time as well.