It's crazy…soccer I mean. We were stepping into this next game with the mindset of warriors. We knew it was going to be a battle until the last whistle, but we would not have imagined how it would actually turn out.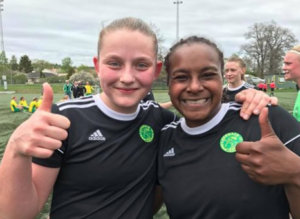 The whistle blew and we started so strong. It was an exciting first 10 minutes. We fought for every 50/50 ball and were asserting ourselves against another first place worthy team. They wanted blood. They wanted to dethrone us and get back to the top of the table where we were proudly sitting. We wanted to remind people that we ain't going anywhere. The ball goes up in the air, Matilda wins it and charges towards the back line. This girl can read my mind so I started my run diagonal behind the back line and she read it like a book. She sent me a ball between the outside back and center back and it sped towards the keeper. I didn't let that stop me and barely got a touch around the keeper to the left and passed her and slid to try and get my foot around the ball and shoot. I fell as the ball rolled to the goal. A defender tried to meet it before it passed the goal line but failed. We went up 1-0 against one of the best teams in the league 10 minutes in!
We were stoked and kept pushing for another goal. And then, a perfect ball over the top to one of our most talented players, Karin, was sent. She took off to catch it and we all knew she would get there first. Then we heard it. She let out a horrible scream and grabbed her leg. Her and I both came into this game with muscles on the verge of a tear and this moment was what both of us feared. Her with her hamstring and me with my groin muscle. She felt her hamstring tear, a big tear. My heart sank. I've been there. In the game ready to rock one moment and feeling like you got shot in the back of the leg in the next.
She went off and one of my favorite youngins came in, Leneli. She had a huge job ahead of her and worked her little tail off. We went into half time 1-0 up and the tension to hold that win was intense! Second half and I was in more and more pain in my groin than I could handle, so I came out. Watching my team fight in the last moments of the game was incredible. We faced more than a comfortable amount of corner kicks against us and our keeper, Linnea, was literally a super hero in the goal. Then it happened. Sanna won a ball and played a long pass to little Leneli. She charged after it, went around the keeper and scored!!!' This girl is 15 years old!! Her, the youngest and me, the oldest, book ended this crazy game with goals.
But yet, people still say we didn't deserve it. They say we weren't the better team. And in a lot of moments in that game, we may not have been. But the crazy soccer thing I was talking about earlier shows us that heart and will power play a HUGE part in this beautiful game. And we are overflowing with them. Proud of this team. Proud to be a part of it.
Oh and I almost forgot to add that one of my dearest friends from college got to witness this whole game. And we celebrated by going to a Bruno Mars concert. All in all a fantastic weekend.