Your name. In so many cases, we hardly ever think about our name. It may be something so important to us, but how often do we really think about it? My name, my last name rather, has become something very special to me. Brand. It reminds me I belong to a family so great that I may never want to change that name.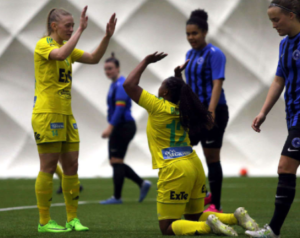 Here in Sweden, that name takes on a whole new level of awesome. I remember when I first played here in 2011 and read an article with me in it. Well, I actually translated an article because I can't read Swedish. My name changed. Instead of Samantha Brand, the article translated it to Samantha Fire. Then I started paying more attention and there were "Brand" exits, fireman were called "Brandman" and you would use a "Brand" extinguisher. Dude, my last name means FIRE in Swedish!! How cool is that?
So before every match here in Ljusdal, we write down a word that we want to embody. Something we strive to be in the next match. Aggressive, driven…stuff like that. I simply wrote "fire." I wanted to be on fire, to be fire. To me, that means running after every ball sent to me. Challenging my opponent and being dangerous at every second.
We played against Täby. A team I have met before. They were a tough opponent last time and I know they would be again. It was the third minute of the game and Joline (Jolly) sent an absolute beautiful cross into the box. I jumped, probably closed my eyes and felt the ball connect to my head. I opened my eyes, heard cheering and looked down to see the ball in the back of the net!!! I freaked out. It's hard to explain the feeling of winning head balls at my size. Kinda feels like it defies science or something. 1-0 us.
It would be about 15 minutes until we hear the roar of the crowd again when Karin (future wife of Zlatan) and Ellika made some magic happen in the box. Some Barcelona passing by Ellika lead to a little slot ball to Karin and with her magic feet she cut around the last defender and played an unsavable ball into the side netting! It was Zlatan like and he would be very proud. Then a moment of worry just a few minutes later as Täby got a pk. They scored it and we all know that 2-1 is a dangerous score. But remember how I wanted to be on fire? Five minutes later, my teammate Malin went on a seriously impressive run, taking on two or three players down the left side and just when you thought the ball was out of bounds, she slid and sent across a worm burner right in front of the net! It was coming so fast I had no choice but to slide to connect with it! GOAL! Just like that 3-1 and I had two goals. Like what??
If that wasn't crazy enough, two minutes later Jolly sent yet another brilliant ball into the box, there was a scuffle and the ball was bouncing around in the box and boom. I jumped up and won another science defying header for a third goal. Like seriously, what??? We went into half up 4-1. We were, I was…shocked.
Our last goal to finish 5-1 was my favorite though. Ellika is one of those players who just never quits. She's our lone forward and I've played with many, even played that position, but not like her. She can post up with pressure on her back, she can outrun players, even when we send her impossible balls over the top. And her engine just never stops! But that position, is what I call one of an unsung hero. You often make those long runs only to send the ball to someone else so they can score. You make a beautiful run that takes a defender away so that the person with the ball has a clear path to score. You work and you work and it feels like everyone around you benefits just a tad more than you do. But Ellika, even with all that stacked against her, she keeps working. At every training, every game and even extra training in the gym. And on top of ALL that amazingness, she's a nurse!! She leaves practice to go save lives! Like, regularly. Insane. So, when she had her Messi like goal, it was so well deserved and I was so excited!!!!!
Fire. That's what I wanted to be. That's what I was. But fire cannot start on its own. It needs someone or something to start it. My team was my match. The crowd my fuel. My coaches were the oxygen needed to sustain that fire. Thank you all.