So, I finally made it here and successfully lasted a week in this freezing cold weather! And today was my favorite day of the week, GAMEDAY! I'm lucky that I got to start back up again at home because we have the best supporters in Sweden. I spoke with the coaches and we all hoped my body would let me get some sleep so I could get some minutes in today. And it did!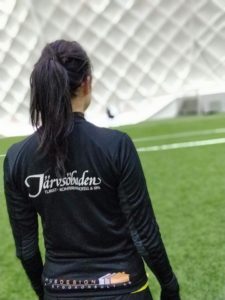 And this game! What a grind. We've had games like this before and were expecting to have to work hard for 90+ minutes today. And boy did we. Last year watching the difference between the level we were in and the one we will be in this season, we narrowed it down to speed of play and more running as the main differences. And holy Toledo Batman were we right. Today, my team never stopped running and most of it was at max speed.
Our first half was spent defending, defending and more defending. We were compact and we didn't give up a goal. We went into half 0-0 and it was a pretty good place to be against such a tough and fast opponent. We were prepared to have the ball less than our opponent today, but as the second half took off, a shift was happening. We started attacking more and more and then BAM! Ten minutes into the second half, we play the ball up to one of our new players and she cuts around the goalkeeper and SCORES!!! Like, wait, what?? Proud doesn't even come close to explaining what I felt.
So as a team, we were successful. And I am proud of that. However, being the player I am, I always want more. Today, I wanted more from myself. I wanted to be more fierce. More dangerous. More threatening. More of a boss. Many teammates and friends keep saying I have time, but even after playing this crazy game for over 26 years now, I still want more. And I hope I always do.
Tomorrow, I wake up and work towards that more.