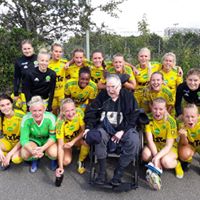 We had very little time to process that amazing win away before we were onto the next 
game
. Home. Those are the best 
games
. We have the most outstanding supporters in history. But would they be enough to help us in this next 
game
? I wasn't sure.
Being at the top of the table can be the most exciting, but challenging adventures. We feel strong, but we have a huge target on our backs. Teams scout how to beat us. They think all week how they will stop us from scoring. They come to the 
game
 prepared to fight until the final whistle. They are fierce. They are determined. And they are insufferable. But what they don't know is. So are we.
In our tenth match, we met a team who felt like they had a force field up around the goal. We tried to penetrate the spaces between their back line and it felt impossible. We attacked and attacked all first half, but it was like they had an extra invisible defender stopping us. In addition to their five defenders they really had of course. And their goalkeeper was amazing. It seems all of of the goalkeepers we play turn into a combination of Hope Solo and Super Woman when they play against us. But yet, we find a way.
This 
game
 was a rough start for me. Actually, and a bit ironically that I say it like that because I wasn't in the starting line up. It's a different 
game
 when things are stacked like that. I've always been a starter, so this was a mental battle and a test to my ability to rise above my ego and be the player they needed me to be. But then it happened. Seven minutes in, Sanna screamed. She had twisted her knee and was writhing in pain. I hated every second of it. My heart lurched into my throat as I watched her cry, knowing her knee was not going to be the same for months. Seeing her in that much pain, both emotionally and physically was much harder than not starting. Coach turned to me to warm up and I was in. The 
game
 was tough. The opponent was relentless. We went into half time with 0 points on the board. But second half, we killed it.
There are some players you know you're meant to play with, and Ellika is one of them. In the third 
game
 in a row, I managed to send her the ball for her first goal of the 
game
. This time she scored with a power thigh. So awesome. Then, she scored again. Two goals for her, also for the third 
game
 in a row. She impresses me more and more with each 
game
 I'm lucky to play with her.
This team is special. I've said it before and I'll say it again. We have something. I don't know what it is, but we have it. And I am blessed, lucky, fortunate…all of the above.