We had been battling and fighting to have any possession at all in the last two matches. We've chased and tackled and fought and succeeded in those matches and won. But boy was it a fight until the end. And we've established our first place spot…but what does that mean? To me, it means we are targets. Who wouldn't want to beat the team on top? Coming into a game where you play the "best" means the pressure is on them to stay there. Underdog is a very freeing position on a match.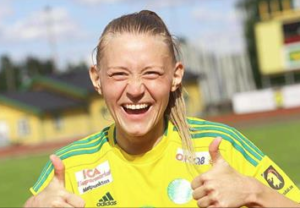 In this last match, we had just beaten the best two teams in the league and were meeting the team at the bottom of the table. Those are the games where things can easily fall apart. Players get complacent and figure, well, we should win because we are number one and they are not. But that's not the attitude we wanted to have. We want to earn every single point we get. Against this last team, we did that. It took us awhile to get into the game, but we ended up winning 6-0 with six DIFFERENT players scoring. That's a team win right there. Frida, Matilda, Ellika, Victoria, Leneli and little old me.
What a wonderful feeling it was to play hard, share the ball and get a result that shows everyone that we have so many talented and dangerous players. This team surprises the socks off me constantly and I'm impressed by the talent I am blessed to play with!!