Traveling to games can be tedious. We live pretty far from most of our opponents. And there's nothing like the fear of missing the bus for those games. And for my dear teammate, Sanna, it almost happened. I called her to ask if she wanted me to grab her warm up jacket from the locker room and instead, I was her alarm. Thankfully, I called, she woke up, and we picked her up…in the bus!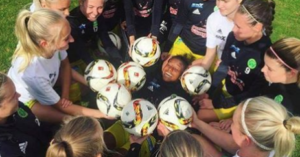 I say all this because we can have a horrible start to a day, and then get to play soccer and it all gets better. And boy did she play! Sanna assisted 2 of the 4 goals we scored in our match. Yes. We scored 4 goals! We unfortunately let one in, but made up for it. Actually, we went into the halftime 1-1. Not a fun score. There was that target on our back feeling again. They definitely out played us in the first half. We went into the locker room and talked it out and came out with a whole new energy.
Within the first few minutes of the second half we got a corner. Sanna, who could've let her rough start to the morning get her down, sent in a beautiful corner. Matilda got on the end of it and blasted it into the net! Up 2-1 and it boosted our energy up with it! We were unstoppable after that goal. Energized, aggressive, and out for blood. Literally actually made a girl bleed on that first goal. But that was on accident and our nurse on our team checked on her and she was ok.
It was such a necessary win for us. We had so much to prove in this game and rose the that challenge. Can't wait to step on the field with these girls again! And next time, I'll be a year older and a year wiser!