Two years ago, Haiti was hit by an earthquake that devastated the country. Since then, many people and organizations have poured relief into the country, doing their part to help. SULA's own, Samantha Brand, was one of these people searching for a way to do just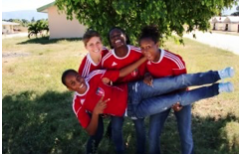 that. She and a friend wrote the coach of the national soccer team, asking if there was anything they could do to help out. Thinking their efforts would come in the form of donated shoes or soccer balls, they were surprised when the coach asked them to come and try out for the team, as the value of  their support and laughter would help more than anything material….
Exactly two years since the earthquake, Sam was reunited with her Haitian teammates for training camp in Haiti. They have been preparing for the Olympic qualifiers which will be held in Vancouver at the end of the month (January 19-29). The top two teams will represent their countries in London this summer.
Follow Sam as she gives us a peek into the humble journey of a team, who, just like their country, is finding strength and joy against tremendous adversity.