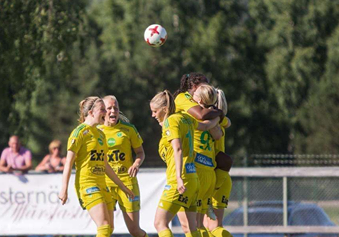 Let me start by saying that I love this game that I have gotten to play for the last 27 years. I have traveled the world playing and couldn't be more lucky. I love this game, but that's what it is, a game. The true beauty of playing for this long is all of the experiences and the people it has brought into my life.
Now it has brought me to Ljusdal, where I have met some of the best friends I've ever had, a team who has changed history, my future husband and a supportive community. People constantly ask me how I ended up in the tiny town of Ljusdal. "Why Ljusdal?" I wish it was a fun and exciting answer, but it was simply by chance. I had taken some time off from soccer to be with my family back in 2016. When I was thinking about coming back overseas, I contacted my old coach from Tierp where I last played in Sweden. He reached out to a few teams and one of them was Ljusdals IF. The club was small but there was so much support from the community and it just sounded like a great fit for me. So I took a chance, packed my bags and headed to this town that would change my life.
You see, I wasn't going to play anymore after a huge life event happened and a really big injury. I was done mentally and physically. I was tired and I thought I would just stay home and start a job in the "real world." But life had other plans for me. Sending that email to my old coach was something I did in the middle of the night just to get the itch of playing out of my system. But once I heard of Ljusdals IF and their huge impressive tent and amazing fans, the soccer player in me just couldn't resist.
My journey in Ljusdal has been full of really high highs and some pretty low lows. From scoring 3 goals in my first game from the start in yellow, to sitting out a whole game last season because the coaches thought someone else was better. I've cried tears of joy in that yellow jersey as well as tears of disappointment. But that's soccer. That's life. Like soccer, life is unexpected and the highs can be out of this world, and the lows can feel unbearable. Fortunately for me, one of those really high highs in Ljusdal was that I met the man I'm going to marry. I met him right here in the tiny town of Ljusdal. I also met friends who treat me like family and leaders who treat me like their own daughter. Life in Ljusdal has had many more highs than lows.
Ljusdal is special to me. It's my home now. This team has done things that no one can take away from us. And we aren't done yet. I can't wait to see what we can do this season. And obviously I can't wait to get married!